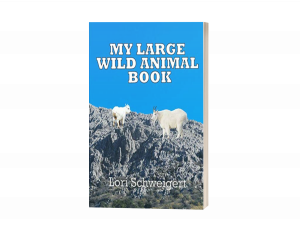 A gateway to nurturing an enduring appreciation for wildlife in Schweigert's "My Large Wild Animal Book"
TORONTO, ON, CANADA, October 24, 2023 /EINPresswire.com/ — Lori Schweigert, a passionate author known for her unwavering passion for nature, has masterfully brought to life the captivating realm of North America's magnificent wild animals in her latest literary masterpiece, "My Large Wild Animal Book". This extraordinary educational children's book is a treasure trove of knowledge and visual delight, meticulously crafted to spark the curiosity and wonder of young readers.
Within the pages of "My Large Wild Animal Book", children are taken on an enlightening journey into the diverse and enchanting realm of North America's wildlife. This beautifully illustrated book showcases not only the adult male and female animals but also the endearing baby animals, inviting young readers to explore the full life cycle of these creatures.
Each page is a window into the natural world, providing vivid, detailed images of animals in their native habitats. More than just pictures, this book is a comprehensive learning resource, as it introduces the reader to the animal's name, offers a concise description of its habitat, explains where it resides, and delves into its dietary preferences. The author hopes that the book will encourage them to be more appreciative of the animals and the outdoors.
Lori Schweigert's "My Large Wild Animal Book" is more than just an educational tool; it's a gateway to fostering an appreciation for wildlife and instilling the importance of conservation in the next generation. By imparting knowledge about these magnificent animals, the book encourages children to understand, respect, and protect the natural world around them.
Experience the magic of "My Large Wild Animal Book" by Lori Schweigert, a literary treasure designed to foster a deep connection with nature and inspire the future stewards of our planet by, now available for purchase on various online retailers, including Amazon, ensuring that this invaluable resource reaches the hands of young readers and educators everywhere.
About Bookside Press:
Bringing stories and ideas to life, one tap at a time.
Bookside Press is all about creating buzz in the digital world. Buzz that'll have each vital message be heard loud and clear. Headquartered in Canada, this hybrid publishing and advertising company aims to share the magic of its authors' books with the world. With a dedicated team of creatives and marketing professionals, Bookside Press collaborates with clients in building better brands that stand out and reach greater heights.
EMMANUEL LAGUARDIA
Bookside Press
+1 877-741-8091
email us here
Visit us on social media:
Facebook
Twitter
Instagram
YouTube
Other


Originally published at https://www.einpresswire.com/article/662984259/author-lori-schweigert-explores-the-world-of-north-america-s-biodiversity-in-latest-work-my-large-wild-animal-book