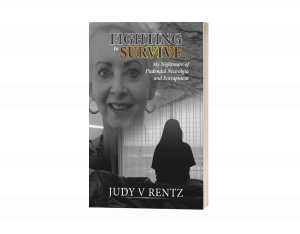 Author Judy V. Rentz has endured both physical and emotional pain herself and she tells it all in her book Fighting to Survive
LOS ANGELES, CALIFORNIA, UNITED STATES, September 15, 2023/EINPresswire.com/ — When times are rough, people tend to say "no pain, no gain". But how true is this? How does one measure what has been gained from this pain? To answer such a question, Judy V. Rentz shares her true-to-life experiences with pain in her book "Fighting to Survive."
"Fighting to Survive" tackles pain from the perspective of someone who has been in pain, quite literally, for most of their life. Rentz writes that for a long time, no one could and dared to understand what she was experiencing. Then one day, help came and it changed everything for her.
"I liked that from the very beginning, she was extremely transparent. Being non-fiction, I realize this was not meant to be a page-turner, but I myself felt compelled to read it through fully on the first day!" Amazon customer, Barry P. King, comments.
A very fitting gift to those who are struggling in different aspects of life, "Fighting to Survive" is a reminder that there is always a chance—to heal and be better.
A proud country girl, Judy V. Rentz has been all around the globe with her husband. With this exposure, she has seen and learned much from different places and faces. She writes to connect with others as well as with herself.
See pain differently, understand make a difference in people's lives and give "Fighting to Survive" a chance. Get a copy here.
Olympus Story House is an emerging digital marketing firm based in Reseda, California that focuses on offering high-quality work at a reasonable price. Our talented staff collaborates with clients to establish a stronger brand and help them get the recognition they deserve. We have the ultimate goal of providing our authors with services that would fit a wide range of marketing budgets, offer reliable feedback and proper guidance in their projects, and present quality service. With our team of passionate marketing and publishing experts, we strive to bring our client's projects to their best potential.
Elmer Teves
Olympus Story House
+18188090723 ext.
email us here
Originally published at https://www.einpresswire.com/article/655985279/author-judy-v-rentz-encourages-readers-to-never-give-up