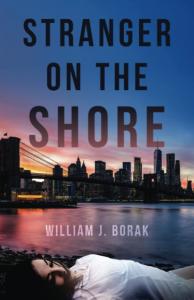 William J. Borak's new novel "Stranger on the Shore" is a spellbinding mystery about a young woman's transformation and battle against evil.
NEW YORK, UNITED STATES, May 1, 2023/EINPresswire.com/ — New York, NY – Atmosphere Press proudly announces the release of Stranger on the Shore, a captivating fictional story by William J. Borak. The book follows the journey of Marisa, a beautiful woman found lifeless on the bank of the East River in NYC, and her transformation into one of the most charismatic and formidable women of her time. The novel explores the mystery of her amnesia, her romance with the love of her life Chris, and her destiny to face one of the most evil and powerful leaders of a cartel family in a battle to the death.
William J. Borak is a retired Sr. Manager who established the largest enterprise Project Management Office (PMO) in the state of New Jersey. He has worked with major organizations like Merck, Pfizer, NBC, and Bloomberg Financial. In Stranger on the Shore, he creates a story that is not your usual mystery, where readers can find facets of love, growth, recovery, and discovery.
Readers Favorites reviewed Stranger on the Shore, calling it "an outstanding mystery" and "much more than expected." Midwest Book Review praised the book for its intriguing and complicated plot, stating that libraries and readers looking for stories of love, growth, recovery, and discovery will find those facets and more.
The book is not only a mystery but also explores philosophical themes. The primary message that readers can get from the book is about the fight between Good versus Evil in the world. It is also about a man who arrives at a crossroad in his life and is challenged by a spiritual messenger to choose between a current life of drinking, self-pity and seclusion or take a risk and engage in a relationship with the beautiful Marisa and face an unforeseen future that could result in his premature demise.
Stranger on the Shore is available now at all major retailers. Visit WilliamJBorak.com for more information.
Atticus Publishing LLC
Atticus Publishing LLC
+1 888-800-1803
email us here
William J. Borak with Logan Crawford on the Spotlight Network TV


Originally published at https://www.einpresswire.com/article/631176027/stranger-on-the-shore-a-spellbinding-mystery-by-william-j-borak